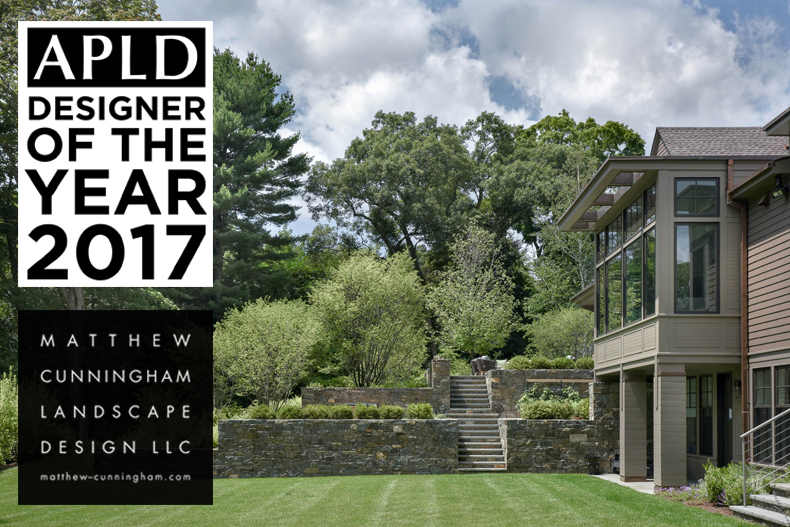 It is with tremendous pride and genuine humility that I announce Matthew Cunningham Landscape Design has been named the 2017 Designer of the Year by the Association of Professional Landscape Designers!
As many of our clients, collaborators, friends, and followers know, we have been loyal supporters of the APLD and its mission for many years. The international organization works tirelessly to advance the profession by promoting landscape designers and their works worldwide. There has never been a more critically important time to embrace the relationships people share with the built and natural environment, and I am so grateful for organizations like the APLD who are out there celebrating, protecting, and promoting the invaluable contributions that landscape design professionals make!
MCLD has received a total of 15 awards from the APLD. However, this year's wins are especially meaningful because the two projects being celebrated mark fulfilling collaborations with Jen Stephens, one of MCLD's talented senior associates. The work we completed together at both the Waban Hillside and the Brookline Residence represent my whole team's unparalleled commitment to work with our clients to build gardens that embrace their individual property's unique ecologies, that enhance their personal connections to their land, and that grasp the dynamic rhythms of everyday life.
And, as if this news wasn't already over the top, the 2017 APLD conference is right here in Boston. We can't wait to attend and look forward to celebrating this accomplishment with everyone right here in our own back yard!
Thank you APLD, and thank you to our clients and collaborators who help us do what we love every single day.