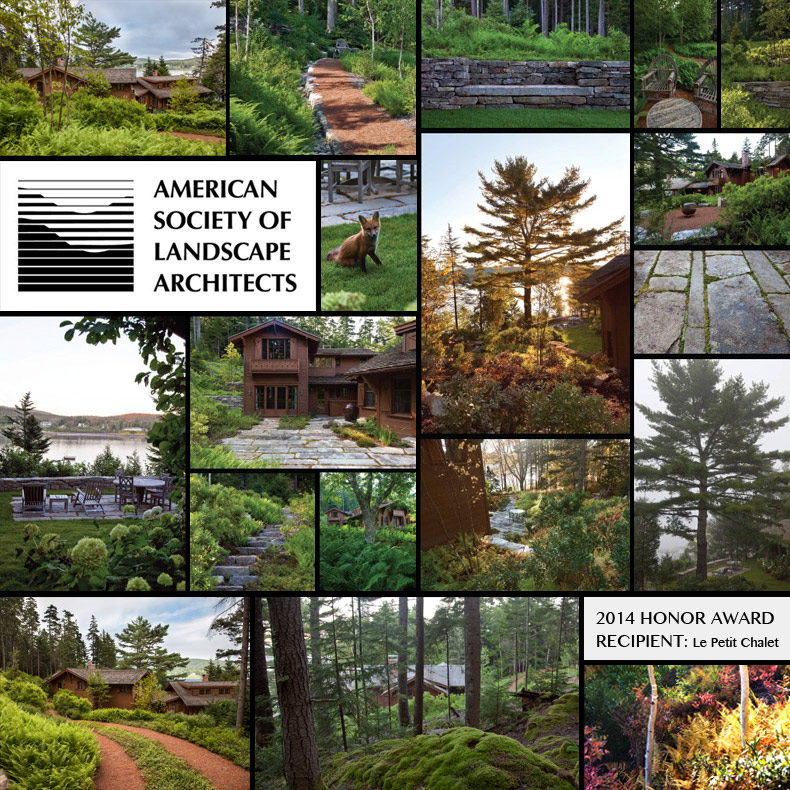 It is with an overwhelming sense of humility that we announce our first professional Honor Award from the American Society of Landscape Architects in their 2014 Professional Awards Program for "Le Petit Chalet" in Southwest Harbor, Maine. Today's press announcement from the ASLA revealed a stellar list of 34 award-winning projects selected from more than 600 entries submitted by firms worldwide. Le Petit Chalet is no stranger to recognition; it received a 2011 International Gold Award from the Association of Professional Landscape Designers, as well as a 2012 Merit Award from the Boston Society of Landscape Architects. Of the 34 recipients, only 8 residential awards were given so to be recognized as one of the top residential projects from across the U.S. and around the world is beyond rewarding. The 2014 awards will be presented at the ASLA Annual Meeting and EXPO in Denver on Monday, November 24th; and the October issue of Landscape Architecture Magazine (LAM) will also feature the winning projects. The competition for this recognition is tremendous, and I am grateful to the prestigious 2014 Jury for seeing the magic of this landscape in our submission.
This past weekend someone special said "if you find a job you love, you'll never work a day in your life." I couldn't agree more. For me, this project is an absolute reflection of this sentiment. The work we have completed at this property has been one of the most rewarding professional and personal experiences I have ever had, and to have it celebrated and shared with my peers, mentors, and collaborators is profound. There is an enormous list of people to thank for all of their hard work and dedication on this project, but I would be remiss if I forgot to thank our amazing client for giving us this wonderful opportunity, or to praise our friends at Gardenform Landscape Construction for their incredible commitment in helping to build this garden.
Congratulations to our fellow professional and student award-winners. We are honored to be in your company and cannot wait to celebrate with you all in Denver in November!