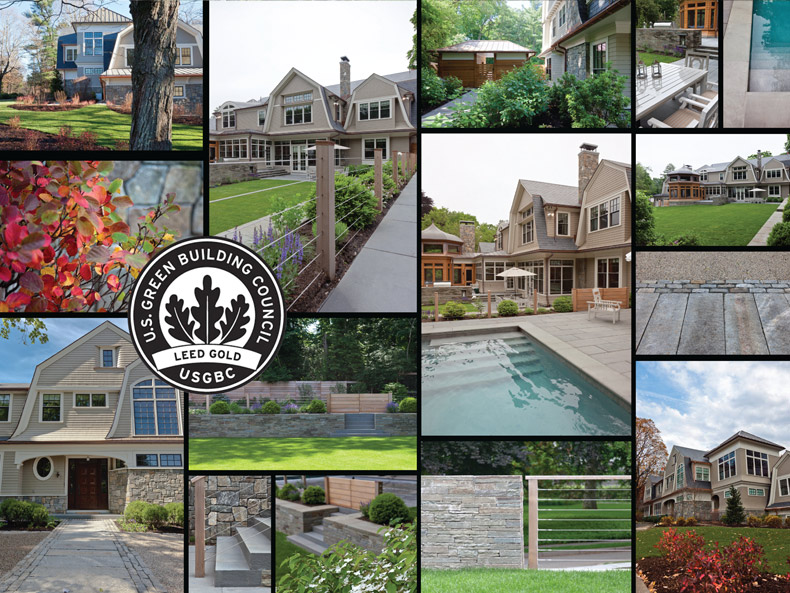 In 2009 MCLD began a collaboration with LDa Architecture & Interiors, Jill Litner Kaplan Interiors, Wellen Construction, and the Phil Mastroianni Corporation for a new home in West Newton, MA.  We are quite proud to announce that the project has received a LEED Gold Rating from the U.S. Green Building Council.  Although MCLD has several LEED projects in the works, this is our first officially rated project!
The extremely energy efficient, 11,500 square foot home, scored 105.5 points out of a possible 136.  The relationships between the building, the interiors, and the landscape are extremely important.  Just about every facet of the project was carefully thought out, and a number of green-tecnologies were integrated into both the house and landscape.  A 3,400-gallon rainwater-capture system collects over 50% of the precipitation from the roof and is used to irrigate the property.  Areas of lawn are kept to a minimum and approximately 30% of the site is carpeted with  drought-tolerant turf.  A low-maintenance plant palette maximizes drought tolerance and is composed of 95% native plant materials––many of which are edible.  All of the bluestone and Pennsylvania fieldstone utilized in wall and terrace construction was carefully sourced from within a 500 mile radius of the site, and slabs of reclaimed granite and antique cobblestones were used to construct the front walkway and driveway apron.  Areas of porous peastone are intentionally located to allow surface water to percolate into the local watershed. 
You can see more images of the new home and landscape on MCLD's Facebook page, and you can learn more about the project in an article written by  "Keen For Green" , as well as on LDa's blog.